Premiere Travel anger over Nottingham roadworks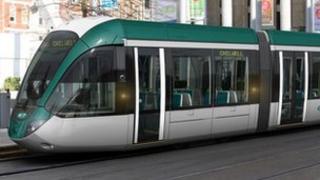 A bus company has said problems caused by three separate sets of roadworks are causing it delays and losses.
Premiere Travel said fewer people were using its Nottingham to Long Eaton route after one-way journey times had doubled to more than an hour.
Disruption has been caused by work on a new tram line, as well as separate drainage and gas works.
Nottinghamshire County Council said it was doing all it could to minimise problems.
Family business
Jamie Swift, a manager at the bus company, said: "Less people have been travelling because they know how long it's taking.
"It should take a bus one hour, 20 minutes to do the round trip on that route [from Nottingham to Long Eaton and back again], but at times it has been taking two hours, 40 minutes - you are doubling the times."
The Red5 route normally runs every 10 minutes during the day, but Premiere Travel has now reduced the frequency to every 20 minutes.
The change was introduced because buses were arriving at the terminus late, meaning they were also late setting off on their next journeys.
The company is now sending spare buses out in place of buses which are late to reach the terminus.
Mr Swift said: "There have been delays for four or five months because of the tram works, but about two or three weeks ago we had some drainage work starting in Long Eaton, then the week after some gas works have started in Chilwell, which is along the route as well."
Councillor Richard Jackson, who is in charge of highways, said the scale of the tram works meant disruption was inevitable.
He said: "We work with the utility firms and most of them are pretty good are trying to co-ordinate stuff.
"The trouble with the tram is that it's two years worth of works and even the routine utility work is not going to wait two years until the the tram works are through."
Work on extending the tram network started this year and the new lines are expected to open in late 2014.
Premiere Travel said a temporary timetable will remain in place until all of the works causing delays along the route are completed.