'Firearm' search in Vernon Park, Basford, is suspended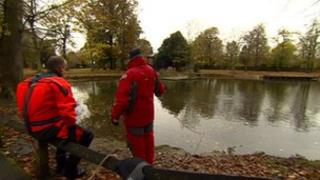 A search for a gun that may have been discarded in a Nottingham lake has temporarily been called off.
Divers from Nottinghamshire Police were called to a lake in Vernon Park, Old Basford on Tuesday after a tip-off from a member of the public.
Police said nothing had been found in the lake and the search may be resumed on Thursday or later in the week.
The force said it was not currently linking the search to a shooting outside the Vernon pub in August.
Det Ch Insp Louise Jordan said: "As with any suspected firearm activity we have taken this report extremely seriously."
In August, a 23-year-old woman received a single gunshot wound in the beer garden of the nearby Vernon pub while at a friend's birthday party.
She was treated at the Queen's Medical Centre and later released.