Mansfield residents and businesses to chip in for wi-fi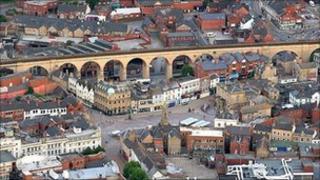 Residents are being asked to club together in a bid to provide free wi-fi access for a Nottinghamshire town.
Mansfield Business Improvement District (BID) partnership said it had £10,000 from the government but it needed to raise £38,000 via local companies and residents to offer free wi-fi.
BID said the free internet access for residents, businesses and visitors would help the town to thrive.
If funding is secured by May, the wi-fi will be available by August 2013.
BID said "crowdfunding" the project in this way allowed any local person or business to contribute small amounts of money which are only collected if the total is reached.
As well as free wi-fi, it said the money would also fund signs with Quick Response (QR) codes which visitors would be able to scan on their smart phone to be directed to events and offers in the area.
More than £5,000 had been pledged via the campaign page on Wednesday.
Mansfield BID manager Sarah Nelson said routers would be installed on lamp posts to cover the area inside the town's ringroad.
Ms Nelson said the plans would keep Mansfield competitive: "There aren't many towns that have free wi-fi for visitors.
"People will be able to stay in town a lot longer. They won't have to rush home to get on the internet.
"They could even work from the town if they wanted to."