Work starts to install Nottingham's first Imax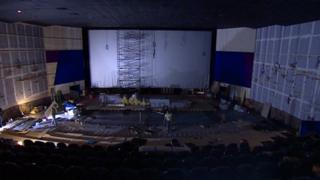 The East Midlands is set to get its first Imax screen at a cinema in Nottingham.
The 19m (62ft) wide by 9m (30ft) tall screen was lifted into the Cornerhouse in sections, through the building's roof on Wednesday morning.
Set to open on 14 December, the cinema is planning to show Peter Jackson's The Hobbit as its first feature.
Imax cinemas aim to offer cinema-goers better sound and picture quality on a larger-than-average screen.
The current, largest screen at Cineworld in Nottingham is 15m (49ft) wide by 6.5m (21ft) tall.
Imax cinemas use special 3D projectors on slightly larger and curved screens to offer an "immersive" experience.
Suzanne Green, centre manager at the Cornerhouse, added: "We're very excited to have the only cinema in the East Midlands with an Imax screen.
"The work to install it is creating a real buzz at the venue."
It took 25 people about four hours to lower in the Imax sections.