East Midlands Ambulance Service says A&E handover times on the up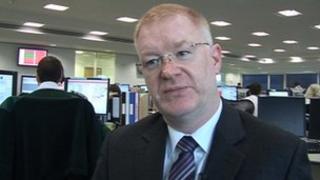 East Midlands Ambulance Service says its figures show delays in some of the region's accident and emergency units have more than doubled in a year.
The government target for ambulance crews to hand patients over to hospitals is 15 minutes.
The figures for Nottingham's hospitals show in the past year to June, on 12,128 occasions it took more than 30 minutes to hand over; an 88% increase.
In Derby there was an 86% increase and in Leicester it was 28%.
Phil Milligan, EMAS' chief executive, said: "It's a growing problem and one we're working together with hospitals and community services to try to reduce."
'Sick patients'
In a statement, a spokesman for Nottingham University Hospitals Trust, said: "We have invested in additional resources ahead of the winter to reduce unnecessary waits and improve the experience for our emergency patients, including those arriving by ambulance at our ED [Emergency Department].
"We have a new Initial Assessment Unit to accelerate clinical handovers and a Rapid Assessment Team to minimise delays when there are peaks in ambulance attendances. "
Leicester's Royal Infirmary (LRI) had almost 6,000 cases which took more than half-an-hour to transfer.
An LRI spokesman said: "Handover times can sometimes be longer than we'd like because of a number of factors including, the number of ambulances arriving within a short space of time and the high number of sick patients already in the Emergency Department."
A Derby Hospitals spokesperson said consultants were now positioned at the front doors of the Royal Derby Hospital's A&E department to assess patients as soon as they arrived.
"Our average length of time for an ambulance turnaround is now 24 minutes.
"The average length of time it takes for a patient to be seen in our emergency department is 17 minutes. We're working hard to bring that down further to meet the target of a 15-minute maximum wait."
EMAS is currently carrying out a consultation into plans to close 53 ambulance stations and open 13 new "superhubs".
The consultation runs until 17 December.