John Cooney jailed over mobility aid sales to elderly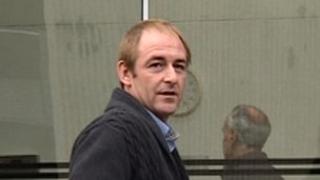 A Nottinghamshire man has been jailed for six months after he ignored a warning over the mis-selling of goods to elderly and vulnerable people.
In 2010, John Cooney, 37, from Radcliffe-on-Trent, signed an order to trade fairly after a series of complaints about goods not arriving.
But he continued to target the elderly and vulnerable with mobility products.
At Nottingham County Court, Cooney admitted 49 breaches of the Enterprise Act and was jailed for contempt.
Cooney and business partner Carl Mould, 46, ran UK Mobility Plus, which closed in January 2011.
'Misjudged leniency'
In 2010, Nottinghamshire Trading Standards received 120 complaints about the company from across England.
Both Cooney and Mould signed agreements under the Enterprise Act but continued to mis-sell mobility products.
At another hearing in January, a judge told both men if they traded unlawfully before December 2014 they would be jailed.
Mould, of River Crescent, Nottingham, received a four-month sentence in September.
On Monday, the court heard Cooney, trading from Old Dalby in Leicestershire, had breached a Contempt of Court order and had taken about £3,500 from five customers in their 70s and 80s since March.
Judge Richard Inglis said he had previously shown "misjudged leniency" towards Cooney.
Outside the court, Trading Standards Officer Paul Gretton said Cooney knew what he was doing was wrong.
"What he was doing was cold calling elderly people or somebody was cold calling for him, getting him an invite," he said.
"The first thing he was doing wrong was letting them believe he might be from social services. If they thought that he didn't put them right.
"He would then actually physically go along. He'd get in the house, then he'd sell them stuff, stuff they probably didn't need, that wasn't suitable."