Nottinghamshire floods: River Trent warnings still in place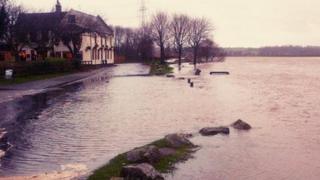 More than 20 flood warnings remain in place in Nottinghamshire after days of heavy rain.
Several warnings are in force along the River Trent, including Newark, Averham, Staythorpe and Holme Pierrepont.
The Environment Agency has warned residents in flood-prone areas to watch water levels closely.
Some minor roads are impassable and the Queen's Drive park-and-ride in Nottingham is closed.
Alan Walters, from the Environment Agency, said: "This doesn't happen that often - the last occasion when we had that number [of warnings] was 2007."
"There is so much water in the system, it will take a few days for river levels to drop."
He added that motorists should avoid driving through standing water.
"A lot of people have got stranded already and had to be rescued by the emergency services," he said.
In Kelham, one of those who had to be rescued after his car became submerged in water while on his way into work was Rodney Ball.
He had to make a 999 call as flood water started entering his car.
He said: "I saw the flood sign but half the road was clear so I thought it might be OK.
"But I got half way and the car decided to stop. That's when the water came in.
"You could say I took a calculated risk and it backfired for me. I feel completely stupid about it and wish it had never happened."
Others affected by flooding included Jackie Wilson, manager of JK Design, an engineering firm in Colwick.
She said she arrived at the factory on Tuesday morning to find it 8in (20cm) deep in water and said Gedling Council and Severn Trent had been unable to help them.
She said: "I am very upset because it is my business. My staff have also been distraught by what they have seen.
"We have lots of buckets but nowhere to take them and we have gone round in circles with every agency passing the buck to somebody else."
The annual Santa Run at the National Water Sports Centre, Holme Pierrepont, has also been cancelled due to the waterlogged conditions.
It was due to take place on Saturday, and Cancer Research UK said it would contact the hundreds of participants.
As river levels peak, Nottinghamshire County Council has been contacting vulnerable people in Gunthorpe, Lowdham and Hoveringham to offer support and assistance.
Paul McKay, who chairs the council's risk, safety and emergency management board, said it was prioritising areas that were likely to flood or become isolated if the A6097 flooded.
He said rest centres were being made available, an extra 300 sandbags were being handed out and 4x4 vehicles were on standby if needed.
On Tuesday, a new multimillion-pound Left Bank flood scheme was put to the test, helping to save thousands of homes along the Trent from flooding.