Dorket Head landfill: Complaints from Arnold residents rise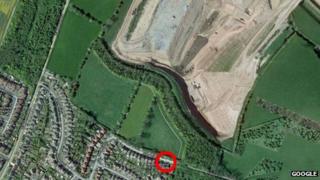 Residents living near a landfill site in Nottinghamshire complained 300 times last month about the "unbearable smell".
The Environment Agency said it received three times more complaints in November about Dorket Head in Arnold, than it did in October.
Residents said the site smells of rotten eggs and it wakes them up in the middle of the night.
FCC Environment, which owns the site, said it was working to reduce odours.
David King who lives 100m from the site has made 200 complaints in three years.
He complained five times in the last month and said 26 November in particular was a very bad day.
He said: "All the doors and windows were shut in the house and me and my wife were woken up at 3.20am by the smell. It is not a good start to the day."
Linda Booth lives 2km (1.2 miles) from the site, but said she had also suffered from the smell.
"In the last month we have noticed an escalation in the smell, the severity and the frequency.
"It is engulfing and is permeated through every single room in the house.
"It makes you feel like a prisoner in your own home, where we should feel safe and secure," she said.
'Appropriate action'
Louise Johnson from the Environment Agency said the worsening smells were due to the increase in recycled and organic waste at the landfill.
She said it had worked with FCC Environment to install extra wells which would extract gases from the area and would become effective within a couple of weeks.
She added: "The measures are above what we normally expect from a landfill operator but given the number of complaints from the residents we felt it was appropriate action.
"If it doesn't work we will have to look at other additional measures that can be taken at the site and closing it down is an option only if everything else has been exhausted."
FCC Environment, which is responsible for the landfill, said it was continuing to improve and invest in the site.