Protesters oppose closure of Newark ambulance station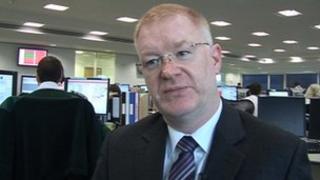 The closure of an ambulance station in a Nottinghamshire town would put lives at risk, a former paramedic says.
East Midlands Ambulance Service (Emas) is consulting over proposals to shut 13 stations in Nottinghamshire, including one in Newark.
Former paramedic David Moore said the changes would mean ambulances would have to travel a longer distance to get to patients in Newark.
An Emas spokesman said ambulances would still be based "in and around Newark".
First responders
Mr Moore said: "An ambulance from Newark will have to go to Kings Mill to be swapped over to return to Newark - if somebody rings 999 then it has to come all the way back from Mansfield or Nottingham.
"It is a cost cutting measure - all they care about it getting the balance sheet right and the rural areas will pay for this.
"It will most certainly put lives at danger."
Under the proposals, the service would have 13 main hubs across the region in Northamptonshire, Nottinghamshire, Lincolnshire, Leicestershire and Derbyshire, but 53 ambulance posts would close. The service would also have standpoints around the region.
Emas chief executive Phil Milligan said: "Our plans will deliver a faster response and therefore increase the chances of lives being saved.
"I would not support a plan that would reduce the quality of patient care."
Consultation on the proposals lasts until 17 December.