Nottingham's mushy peas and mint sauce back on sale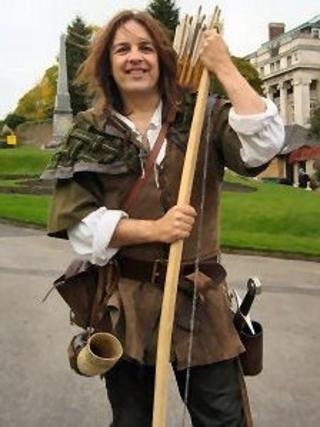 The traditional Nottingham dish of mushy peas and mint sauce is coming back on sale in the city.
The dish is traditionally eaten at the city's annual Goose Fair, but Nottingham's only permanent outlet closed a few years ago.
A former Sheriff of Nottingham and her husband are behind the new Robin Hood-themed mushy pea stall, and hope it will promote the city and its dish.
The stall opens in the indoor market of the Victoria Centre at 11:00 GMT.
The former Sheriff of Nottingham, Councillor Jeannie Packer, and her husband Norman Packer also hope the stall will attract more trade to the market.
Tim Pollard, Nottingham's official Robin Hood, will help out over the first few weeks.
"I will be there with my bows and arrows but I hope it all goes off peas-fully," he said.
"I'm going to be there talking to people rather than handing out food, because I haven't got my food hygiene certificate. Outlaws don't tend to have those."
While mushy peas are eaten as a side dish across Britain, in Nottingham they are eaten as a stand-alone dish with mint sauce.
Earlier this year, a campaign was set up on Facebook against changes at one of the Goose Fair stalls, where the traditional bowl of mint sauce and ladle had been replaced by "shop-bought mint sauce out of a squirty bottle".
There was a mushy pea stall in the Victoria Centre Market for decades but it closed within the last few years.
The new stall is in the recently refurbished food court area of the market.