Malakai McKenzie shooting: Man arrested at JFK Airport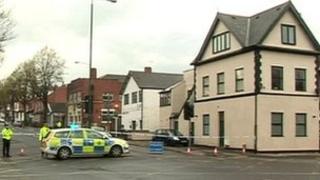 A man has been arrested at a US airport in connection with the murder of a teenager in Nottingham, it has emerged.
Four men have already been charged with murdering 19-year-old Malakai McKenzie, who died in hospital after being shot outside The Hubb pub in Sherwood on 21 April.
Nottinghamshire Police said a 26-year-old man was arrested at JFK Airport in New York on 28 November.
He is currently being detained and awaiting extradition to the UK.
In May, detectives said they were investigating whether three suspects had fled to the Caribbean.
Several people have been arrested over the murder but this is the first arrest outside of the UK.
Nottinghamshire Police said the latest arrest follows close liaison between its officers and authorities in the United States.
A post-mortem examination concluded that Mr McKenzie died from a gunshot wound.
The four men charged with his murder are next due to appear at Nottingham Crown Court on 22 February when a trial date will be fixed.