Graffiti and 'ham cross' outside Muslim home in Bingham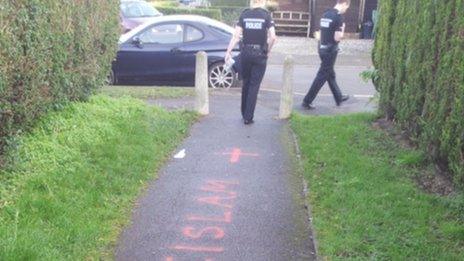 Offensive graffiti attacking Allah and Islam has been painted outside a Muslim family's home weeks after a cross wrapped in ham was left by their door.
The 31-year-old mother and two sons, eight and 10, say they have suffered five or six racist incidents since they moved to Bingham, Notts, in October.
The graffiti was painted on their path on Saturday morning.
A 13-year-old Bingham boy was arrested in connection with the ham-covered cross on Friday and bailed.
The family, who do not want to be identified, moved to the Nottinghamshire market town after the mother separated from her husband.
The husband said he had now had to move in with his family to protect them.
"They are in fear of their lives," he said. "My kids are scared and crying.
"Two days after the first incident I saw the eldest on the laptop looking at a map, looking for escape routes in case anything goes wrong.
"I'm not even a strict Muslim at all, so for this to happen to my family is a joke."
The father, 39, still lives in West Bridgford in Nottinghamshire, but was in his wife's house in Bingham when the cross was put outside on 20 November.
He said there was a knock on the door at about 18:30 GMT.
"The cross was upside down outside the door so when I opened the door it fell in," he said. "I was disgusted straight away. Clearly they are targeting my wife.
"I've got to assume it's because of the way she dresses in traditional Asian clothes, with a traditional headdress."
He believes the person responsible for the cross must have followed his wife home to know where she lives.
Nottinghamshire Police said they asked the council to remove the graffiti as soon as possible.
The 13-year-old boy arrested in connection with the cross was also arrested in connection with two other incidents involving the same family.
A police statement said: "He is suspected of shouting racial abuse at a 32-year-old woman on 3 December and throwing a stone at their window on 4 December."
Police said he was also arrested in connection with incidents affecting two restaurants in Bingham.
On 11 August racist graffiti was scrawled on a Singaporean restaurant in Market Place, and on 31 October bricks were thrown at a Balti restaurant in Market Place.
A Nottinghamshire Police spokesperson said: "Hate crime is completely unacceptable in any degree or form and Nottinghamshire Police takes any incidents of this nature incredibly seriously.
"Increased patrols have been mounted to provide reassurance and officers have been conducting house-to-house enquiries and working very closely with the victims to ensure they are safe."
Related Internet Links
The BBC is not responsible for the content of external sites.