Paddy Tipping says Nottinghamshire Police needs black recruits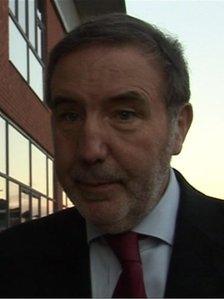 Nottinghamshire's new police and crime commissioner says the force does not reflect the community and needs to attract more black and Asian recruits.
Paddy Tipping, former Labour MP for Sherwood, said some black youngsters felt "hostile to our police" because the force did not reflect them.
Mr Tipping said about 7% of people in Nottinghamshire were black or Asian, compared with 3% of police.
The force said it was "crucial" to represent the people it served.
Recruitment days are being held over the next week to attract "under-represented" recruits.
As well as people from ethnic minority communities, the force wants more applications from women and disabled people.
The force also wants to attract people who identify themselves as lesbian, gay, bisexual or transgender.
As an MP, Mr Tipping was involved in setting up the Macpherson inquiry following the death of Stephen Lawrence.
He said: "I live in Nottingham and I know that black people, particularly youngsters, feel alienated from the police, and one of the reasons is that the police force doesn't reflect the community they serve.
"I'm really concerned that there are black youngsters on our streets who feel detached, disinterested, and more particular, hostile to our police."
Margaret Monckton, assistant chief officer for Nottinghamshire Police, said: "It's crucial that our organisation truly represents the diverse communities we serve.
"It is right that we actively encourage people from minority groups to consider joining the force and I hope we will see high levels of interest."
Related Internet Links
The BBC is not responsible for the content of external sites.