Rail fare increase prompts East Midlands protest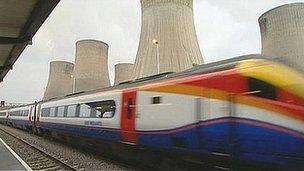 Protests over planned rail fare increases have been held at stations across the East Midlands.
Campaigners are angry about plans by East Midlands Trains to put up its fares by 4% from 2 January.
Members of Action for Rail gathered at stations in Derby, Leicester, Lincoln and Nottingham to hand out Christmas cards with a message to passengers.
They are being urged to contact their MPs to voice about the rising costs of using the railways.
Andy Botham, a driver on East Midlands Trains and a rep for the ASLEF union, said: "The aim of this protest is to raise awareness that we are paying for too much for railways in this country and getting far less services than we deserve."
From next year the fare increase means a family of four (two adults and two children) travelling from Nottingham to Edinburgh on an anytime ticket will have to pay more than £481.
East Midlands Trains said the rises are mainly due to government policy as railway funding can only come from the taxpayer or the passenger.
A spokesman for the firm said: "We know nobody likes paying more for their travel, especially to get to work. That's why we are working hard with the rest of the rail industry to make the system more cost-efficient and help take the pressure off future fare rises.
"At the same time, we are investing in our trains and stations to deliver a better railway for our customers."
Related Internet Links
The BBC is not responsible for the content of external sites.