Clipstone Colliery: Renewed demolition calls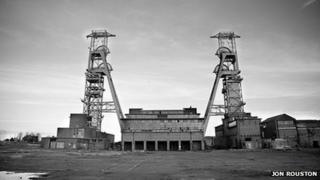 A MP is calling for a huge mining landmark to be demolished to help make way for future redevelopment.
The 200ft (61m) headstocks at Clipstone are Grade II listed and have remained since the pit closed in 2003.
Sherwood MP Mark Spencer said the machines were impressive but the site needed to be redeveloped.
He said: "It's sad... but the cost of redeveloping the site and including them makes it undeliverable unfortunately."
Mr Spencer took part in a visit to the site last week along with representatives from Newark and Sherwood District Council, English Heritage, the police and fire services, landowners Welbeck Estate and leaseholders the Coal Authority.
The council said an application to demolish all the colliery buildings, including the headstocks, was first submitted in 2003 and was still pending consideration by the planning committee.
It said separate applications to build houses on the former colliery site had already been approved and lapsed. The latest was submitted in 2009 to build 29 houses.
Mr Spencer is raising the issue after he was contacted by police who were concerned about anti-social behaviour at the site.
English Heritage said it had joined the council in a feasibility study to ensure any decision over the structure's future was based on considering all options.
It said the headstocks and machinery were structurally complete and were of historic and technological interest.
Mr Spencer said a decision over development was due to be made by mid-summer next year.