Mobility aids con salesmen jailed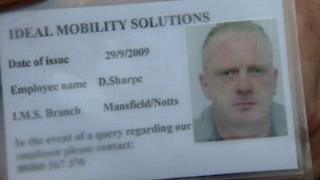 A Nottinghamshire businessman and his partner who sold mobility aids at inflated prices have been jailed.
Darren Sharpe, 44, from The Park in Mansfield, was jailed for five years after admitting fraud at Nottingham Crown Court.
His co-defendant Christopher Andrew Simpson, 47, of West Bridgford, was jailed for 18 months after he also pleading guilty to fraud.
They sold some items such as mobility scooters for 10 times their real value.
'Gift of the gab'
The victims in Nottinghamshire, Derbyshire and Yorkshire were conned out of about £50,000 between January 2011 to January 2012.
Sharpe and Simpson, who ran Ideal Mobility Solutions, mainly sold ordinary mattress covers that were claimed to have health benefits for ailments such as bad backs and stiff joints.
The products were sold for up to £300 each when they were only worth around £30.
Aids such as mobility scooters and stair lifts were also sold at inflated prices or were not delivered.
Unauthorised transactions from credit cards were also taken as part of the scam.
Councillor Mick Murphy, of Nottinghamshire County Council, said: "Sharpe and Simpson ruthlessly preyed on vulnerable people with this mobility aid scam with no concern about the impact of their crimes on their victims.
"They used high-pressured sales techniques to sell products at extortionate rates which were not the miracle items they were claimed to be or were never delivered. "
George Withnall, 81, of Long Eaton in Derbyshire and his 78-year-old wife Patricia purchased a bed from Sharpe for £1,545.
The new bed was "very uncomfortable", but they did not get a refund or their old bed back.
Mr Withnall has arthritis and two crushed vertebrae and his wife suffers from Parkinson's disease, thyroid and heart problems.
He said: "The salesman had the gift of the gab and was very forceful. He made out the bed would help cure my back problems.
"The money we spent on the bed was a large part of our savings and as pensioners we could have done a lot with this money. "