Nottinghamshire's PCC Paddy Tipping confident over police numbers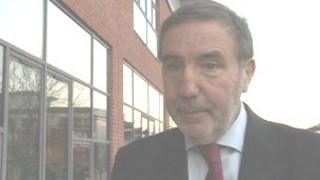 Nottinghamshire's police and crime commissioner has said he is confident he can deliver on his pledge of more beat officers, despite budget cuts.
Paddy Tipping, former Labour MP for Sherwood, said his priority was to have more officers and PCSOs in local communities.
He also pledged to make tackling anti-social behaviour a priority.
Nottinghamshire Police has to reduce its budget by £42.3m by the end of March 2015.
Mr Tipping said: "I'm confident that we have reordered our priorities and are working things through.
"We are looking after our buildings better and buying in a more sensible way, which allows money to be freed up to do new things."
Details of the force's budget for the next five years are expected to be released by the end of January.
Nottinghamshire Police is made up of about 2,250 uniformed and plain-clothes police officers, 1,500 police staff, 275 police community support officers (PCSOs) and more than 450 special constables and other volunteers.