LAMMA agricultural show loss 'will cost region £5m'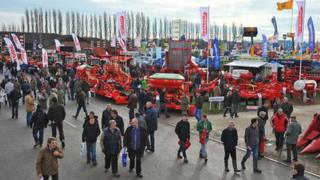 The decision to move an agricultural machinery show from Nottinghamshire could mean an annual loss of income of £5m a year, a showground owner said.
The Lincolnshire Agricultural Machinery Manufacturers Association (LAMMA) show is moving to Peterborough from Newark Showground in 2014.
Organisers said traffic problems and insufficient space were the main reasons for the move from the region.
The farming show attracts about 40,000 people a year.
'Not happy'
"It benefits many areas in Nottinghamshire and Lincolnshire - and it is a very sad day," Newark Showground spokesman Adrian Johnson said.
"It will cost the region between £3m-£5m in lost revenue based on attendance.
"I believe that the traffic factor is the one that has tipped the LAMMA show organisers' decision."
LAMMA spokesman Cliff Preston said: "I spoke to people who travelled three hours from Somerset but it took another two hours to get into the showground.
"We had spent a lot of time and effort consulting wit Nottinghamshire County Council and the Highways Agency and we were told what to do - but on this occasion unfortunately it didn't work very well."
The first show was held in 1982 at Lincolnshire Showground with 50 exhibitors.
Mr Preston added: "We are not happy about leaving the area as we have had a very good time here - the show has increased from 150 to 860-odd exhibitors. It is a shame."
A Nottinghamshire County Council spokesman said bad weather, breakdowns and accidents caused many of the traffic delays at the showground during the most recent show from 16-17 January.
"Shows of this size always attract large numbers," he added.