Concerns raised about high sepsis deaths at King's Mill Hospital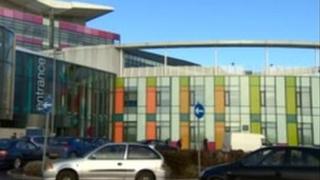 A Nottinghamshire hospital has come under fire over the number of its patients dying from sepsis.
An internal report presented to bosses at the King's Mill Hospital in Sutton-in-Ashfield showed 100 patients died over a nine-month period last year.
The Care Quality Commission said the figure was high and raised concerns.
The trust which runs the hospital said it was aware of the problems and had created an action plan with the CQC to make improvements.
MP for Ashfield Gloria De Piero said it was clear cases were not being diagnosed or dealt with quickly enough.
"Clearly the hospital should and could have done more. There is no excuse for not delivering the highest quality care," the Labour MP said.
"However the hospital has told me they will sort it out and I will make sure they do."
Last month the Sherwood Forest Hospitals NHS Foundation Trust, which runs the hospital, revealed its debts had spiralled to £15.5m as the trust continues to struggle with PFI repayments for King's Mill.
Dr Nabeel Ali, executive medical director for the trust, said staff were being given specific training and "sepsis boxes" had been introduced, making equipment needed to treat patients quickly easily accessible.
He said: "We aspire to be one of the best hospitals in the country and are confident we provide the very best care for all of our patients.
"Before the CQC contacted us we were aware of a problem in our treatment of patients with sepsis. We carried out detailed work to identify areas where the treatment could be improved, and put in place an action plan."
Ron Daniel from the UK Sepsis Trust said the figures were "shocking" but added that the hospital's response had been positive.
"A patient will quite rightly be scared but the figures aren't that alarming when we look at the national figures," Mr Daniel said.
"But nevertheless, we know we can save a lot more of those patients if we as a healthcare system begin to get this right."