Farmland search over Marian Bates murder in 2003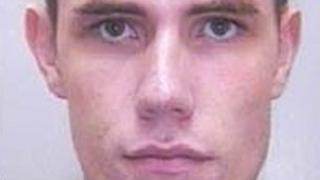 Detectives are searching farmland in connection with the murder of a Nottinghamshire jeweller.
Marian Bates, 64, was shot dead as she shielded her daughter from armed raiders at the Time Centre in Arnold, in September 2003.
Specialist search teams are at Maize Farm in East Heckington, Lincolnshire, looking for the body of James Roger Brodie.
Police suspect Mr Brodie, missing for nine years, has been murdered.
James Brodie, from Bulwell, was 20 years old at the time of his disappearance. He is believed to have gone missing shortly after jeweller Mrs Bates was shot dead.
Police wanted to speak to him over her murder and he was also wanted in connection with three armed robberies and a racially aggravated assault, all of which were committed in a 12-hour period three weeks before Mrs Bates was killed.
He has not made any contact with family or friends in Nottingham and despite investigations across England and Scotland, where he had connections, he has not been located.
Det Ch Insp Rob Griffin said: "Over the years all the evidence we have collated suggests that James Brodie is dead.
"We have launched a murder investigation and as part of that our efforts to find him will continue."
Nottinghamshire Police urged anyone with information to contact them, particularly people who felt that they could not speak about Brodie's disappearance in 2003.
The search is expected to continue for a number of days.
Peter Williams was convicted of the murder of Mrs Bates by a jury at Stafford Crown Court in 2005.
Williams, who was 19 at the time, denied murder. The prosecution alleged he helped a gunman to escape from the Time Centre after the shooting.
Notorious crime boss Colin Gunn has also been linked to the case.
During his 2007 trial for the revenge murders of John and John Stirland in Lincolnshire, the court heard he was suspected of organising the robbery, though he was never charged.