James Brodie: Two arrested over missing man murder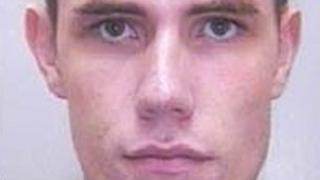 Two men have been arrested on suspicion of murdering a man missing for nine years.
Detectives said the two aged 32 and 31 would be questioned as searches for the body of James Roger Brodie continued at a Lincolnshire farm.
Mr Brodie is believed to have gone missing shortly after jeweller Marian Bates was shot dead during a robbery at the Time Centre, in Arnold, in 2003.
Police said he had not contacted family or friends and believed him to be dead.
Officers wanted to speak to him shortly after the shooting in September 2003 in which the 64-year-old jeweller died while trying to protect her daughter.
He was also wanted in connection with three armed robberies and a racially aggravated assault committed in a 12-hour period three weeks before Ms Bates was killed, detectives said.
Nottinghamshire Police urged anyone with information to contact them.
The search of the farm is expected to continue for a number of days.