Faulty bus pass girl barred from Nottingham evening bus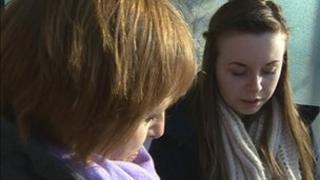 A teenage girl with a faulty bus pass has been prevented from boarding a Nottingham bus, near where a student who was turned away for being 20p short of her fare was raped in 2011.
Hannah Leigh, 17, said she was turned away from the bus on Mansfield Road, a mile away from the attack site.
Her mother said she had bought the pass because of the rape and was "angry".
Nottingham City Transport (NCT) has apologised and said its customers' safety was of paramount importance.
Hannah Leigh said she was left stranded, on a Saturday evening earlier this month, three miles from home at a bus stop in Sherwood.
She said she had to be picked up by her mother, after an NCT driver refused to let her on because the chip in her bus pass was faulty so he could not tell if it was valid.
'Vulnerable customer'
In 2011 a 22-year-old student was told to get off her last bus home, operated by Trent Barton. She was dragged into Forest Recreation Ground and raped when she walked to meet her mother who had come to collect her.
Hannah's mother Denise Leigh said: "We decided to pay £225 on a yearly bus pass, hoping that would give my daughter the security to catch a bus any time of day or night… whether or not she'd got bus fare.
"The bus pass has a 0.03 chance of being faulty. Hannah's had two faulty bus passes in the last six months.
"I'm a maths teacher. I know that the probability therefore is 0.0009, and that's pretty slim.
"She's either very unlucky, or I don't believe their figures; therefore I worry about their policy being adhered to in the first place."
She added she was grateful for NCT's apology and said the company had given Hannah an extra month's free travel.
A spokesman for NCT said: "We would like to start by offering our sincere apologies to Miss Leigh for the faulty card which led to her not being allowed to travel on one of our buses.
"We have a long-standing policy which states that under no circumstances should a vulnerable customer be left at the roadside, and it's a policy which is regularly communicated to our drivers during their ongoing training.
"This was an isolated incident where one of our drivers evidently misjudged the situation, and we have reiterated with our staff the measures already in place to ensure vulnerable passengers receive support and assistance."