EDF Energy: West Burton legal action petition signed by 60,000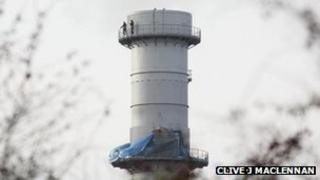 Up to 60,000 people have called for EDF Energy to drop a £5m civil action over a power plant occupation.
Climate change protesters staged a seven day sit-in at West Burton power station, Nottinghamshire, last year.
The 21 campaigners from No Dash for Gas admitted aggravated trespass at the plant at Mansfield Magistrates' Court, in February.
They now face a claim for damages and costs from EDF, which said they cause "damage, cost and disruption".
The protest was in response to government proposals to build 20 new power stations.
West Burton has a coal-fired power station, but the campaigners occupied a new gas-fired facility on the site, which is due to become operational following testing.
'Car crash PR'
The Change.org petition against the civil claim was started by parents of Claire Fauset, one of the activists named in the suit, and has been signed by up to 60,000 people.
They said: "Claire and her friends act on principle and are entirely altruistic in what they do.
"Their chosen career paths have led them, not in the direction of making as much money for themselves as they can, but rather to promote ethical and radical solutions to some of the most important issues which face the planet, and ultimately the human race.
"It's heartbreaking to think that Claire and her friends are being punished for putting themselves at risk for the good of humanity."
Support has also been posted on social media sites, with some people pledging to swap energy suppliers - one Tweet, by Andy Tait, called it "car crash" PR for the French energy firm.
An EDF spokesperson has said the company was suing the group due to the "damage, cost and disruption".
EDF, which owns the site, said it supported the right to lawful protest but the action had put lives at risk, caused considerable disruption and financial losses.
Arrests were made between 29 October and 5 November, when the week-long protest came to an end.
The 12 women and nine men, from across the country, will be sentenced over two days on 20 March and 2 April at Nottingham Magistrates Court, police said.