County council defends Trent Bridge cricket scoreboard spending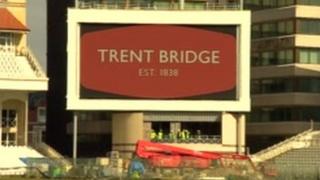 A council has defended investing public money in a scoreboard at Nottingham's Trent Bridge cricket ground.
The board, said to be the biggest outdoor screen in Europe, was funded with £900,000 of cricket club cash and a £900,000 grant from Nottinghamshire County Council.
Opposition councillors described the money spent by Nottinghamshire County Council as "insensitive".
Council leaders said it was important to invest in tourism.
The scoreboard formed part of Nottinghamshire Cricket Club's bid to host the Ashes test in the summer.
The cricket club also received public money for ground improvements and community work five years ago.
Loans of £1.23m were each provided by Nottingham City Council, Rushcliffe Borough Council and Nottinghamshire County Council, which has since deferred repayment of the loan.
Alan Rhodes, leader of the county council's opposition Labour group, said it was "insensitive" to spend millions of pounds of public money when the authority was cutting jobs and services.
He said: "At a time when this council is delivering a programme of cuts, closures and redundancies, it is crass and insensitive to give public money."
'Tourism boost'
Kay Cutts, leader of Nottinghamshire County Council, said the money was justified because it would help boost the local economy and tourism.
She said: "It is extraordinary good value for money and it is a relatively small amount of money for a boost to the economy.
"The council has spent an awful lot on schools, day centres and children's and adult services and we won't have the jobs without the investment."
Vice chairman of the Nottinghamshire Cricket Club, Richard Tennant added: "This is not just about cricket but the economic benefits to the local community are tremendous.
"I think all the local authorities recognise the economic impact of staging test matches and the matches we want will bring in £30m to the business community."
The scoreboard is expected to be ready for this summer's Ashes test.