Nottinghamshire election 2013: A political barometer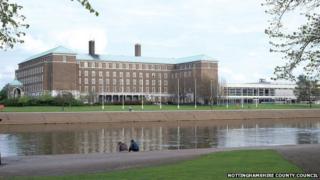 When the crowds pack into Trent Bridge to watch the Ashes Test match this summer, they'll see the outcome of a controversial political decision.
The new digital scoreboard was possible with £1m part funding from Nottinghamshire County Council.
The Tory leadership that runs County Hall batted off Labour criticism that the cash grant couldn't be justified at a time of big cuts in council spending.
It's economic development, says the Conservative leader Councillor Kay Cutts.
But Labour feel this issue gives them an opportunity to score well at the Tories' expense.
In from the cold
In the last county elections four years ago, the Labour vote in Nottinghamshire collapsed. Gordon Brown's government was struggling to cope with the banking crisis. David Cameron's stock was rising.
The Conservatives took 35 seats, with Labour reduced to 13, the Liberal Democrats on nine and independents on 10.
After 28 years out in the political cold, Nottinghamshire's Tories swept into power. And Kay Cutts immediately stamped her no-nonsense style of leadership, especially when it came to squeezing budgets.
Her council has shed 2,500 jobs over the past three years. That's been hugely controversial. Council tax was frozen and will remain so if the Tories retain control.
But whoever wins this election, new budget pressures will mean finding an additional £132m of savings. That's because of the rising costs of adult social care and child protection services.
"I think we are best placed people to do that," says Ms Cutts.
"I can't honestly ask families to pay more money for the same number of services, so we are going to find new ways of doing it differently. And there are ways."
She also took the decision to put up £20m of council money into widening the A453, the main road that links the M1 near East Midlands Airport and the south of Nottingham.
Work on a new dual-carriageway is now under way.
Economic development has become a theme in this election campaign.
"We want to turn Nottinghamshire into a business county," said Labour's leader Cllr Alan Rhodes.
"Jobs and skills will be our priority. We want to make people ready for work."
Warning for Cameron?
The Liberal Democrats may feel the political heat from Labour, but their leader Jason Zadrozny believes his party offers the people of Nottinghamshire an alternative.
"They'll see roads and pavements improved," he said.
"Libraries and Sure Start will be protected. It'll be a different way of doing things. And that will be quite refreshing in Nottinghamshire."
Nottinghamshire will be the barometer council to watch and the result could blow in a chill wind for David Cameron.