Kelham Hall to host restaurant and bar in two-year deal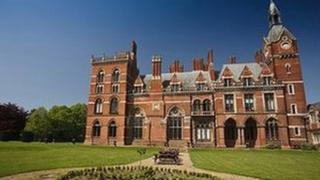 Part of a Nottinghamshire council's 19th Century headquarters is to be opened up as a restaurant as part of plans to transform the building.
Kelham Hall, built in 1863, was put up for sale by Newark and Sherwood District Council for £5m in 2012.
While sale negotiations are ongoing, the council will now lease part of the hall to Kelham Hall Limited, which will run a restaurant there from May.
The company said it would like to add spa and hotel facilities in time.
Newark and Sherwood District Council said it still wanted to move out of the hall in the long-term.
Andrew Muter, the council's chief executive, said it was a "difficult market".
'Difficult times'
"What we're doing is letting a contract to someone who's going to be much more commercial in how they open up the hall.
"[They'll] take a much more professional approach to running weddings and events here so it will be a really good boost for the public but it will be extra income for the council in these very difficult times."
The council said it did not want to reveal how much the two-year hospitality deal was worth because of "commercial confidentiality".
"All I can say to you is that the council tax payer is getting a much better deal than they have in the past from this," Mr Muter said.
Jonathan Pass, managing director of Kelham Hall Limited said: "We'll be talking to the council about whether, over the next few years, we could develop a hotel and spa facility to complement the magnificent hall and country park.
"We're already bringing in antiques, furnishings and garden furniture appropriate to the property. We want Kelham to be everybody's Downton Abbey."
The council has been housed in the Grade I listed hall, set within 42 acres of gardens and parklands, since 1974 but said it now needed less space and maintenance costs on the building were rising.