Kevin Kennedy death: Peter Healy 'confessed' to killing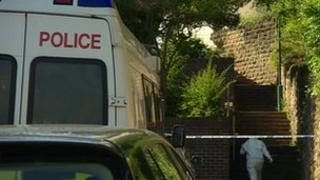 A man confessed to a friend he had killed, dismembered and buried a man, a court has heard.
The armless and headless body of Kevin Kennedy was found in a shallow grave in Sneinton, Nottingham, on 8 August.
Nottingham Crown Court was told Peter Healy, of Lord Nelson Street, Sneinton told a friend he had been in a fight and hurt someone.
Mr Healy, 51, and former girlfriend Tara Swift, 40, of West Street, Leicester, deny murder.
Giving evidence, friend Karen Blower, told the jury she had washed Mr Healy's clothes on 24 July, including his trainers and baseball cap.
Statement inconsistencies
"I washed his clothes on a few occasions previously so I didn't think anything about it," she said.
In Ms Blower's police statement, which was read in court, she said Mr Healy told her he had been in a fight.
"He said I really hurt him. I killed him, chopped him up and buried him," Ms Blower's statement said.
"I asked if he had really done that and he said: 'You don't think I would do that do you?'"
She also admitted suggesting that Mr Healy go to Glasgow "to make a new start for himself".
Shaun Smith QC, defending Mr Healy, said although his client accepted speaking about a fight he did not confess to killing anyone and had not been in a hurry to leave Nottingham.
Ms Blower added: "It's not something I would make up."
Mr Smith said there had been inconsistencies in several statements Ms Blower had given to police in July and December.
Previously, the court was told Mr Healy killed Mr Kennedy, 50, two weeks after being released from jail on 4 July because he had been jealous of his relationship with Ms Swift.
The pair also deny a second charge of perverting the course of justice between 17 July and 8 August by "concealing or disposing" of Mr Kennedy's body parts, which have never been recovered.
The trial continues.