Radar work starts to uncover Newark's 'hidden tunnels'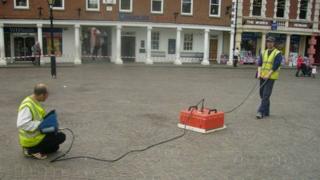 Work has begun to find out whether tunnels exist underneath a Nottinghamshire marketplace.
Ground-penetrating radar is being used on Newark marketplace to see what lies beneath the town centre.
Ian Harrison, a business manager at Newark and Sherwood District Council, said people had come forward with stories about the rumoured tunnels and an investigation was needed.
If tunnels are found, it is hoped they will become a tourist attraction.
Ghost cavalier
"There appear to be too many viable first and second-hand accounts from solid citizens for there not to be something in this," said Mr Harrison.
"We now know that ammunitions were stored underneath the marketplace in World War II and we have even had an account of a resident seeing a cavalier walk through the wood panelling in his lounge."
Newark and Sherwood District Council is funding the initial two-month study, which will cost between £2,000 and £3,000.
The radar generates computer images of what lies underground.
Trent & Peak, an archaeological charity which mapped Nottingham's caves, has agreed to do the work.
If the first investigation is successful, the council will approach the Heritage Lottery Fund for money to continue the work.
The investigation was prompted by a planning application from Newark Town Council to erect temporary posts for Christmas lights in the marketplace.
"We need to use ground-penetrating radar to identify any voids that may exist before the installation of the post sleeves," said Mr Harrison.
The district council, which owns the square, widened its feasibility study of the application into an investigation of the rumoured tunnels.