Prince Harry opens Headway headquarters in Nottingham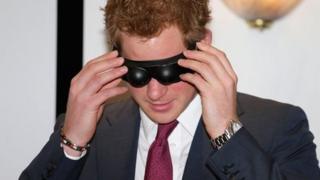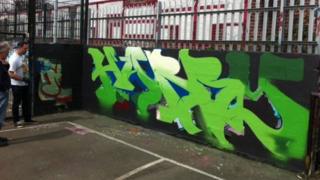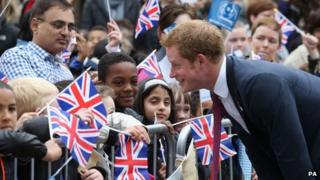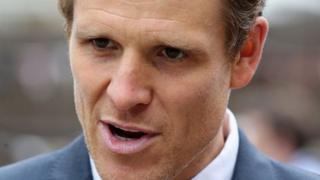 Prince Harry has opened the new headquarters of a brain injury charity supported by his mother, during his first official visit to Nottingham.
He was greeted by hundreds of schoolchildren as he opened the head office of Headway where Diana, Princess of Wales, served as royal patron.
The charity provides support to brain injury survivors through a network of groups across the UK.
The prince also visited a youth group and boxing club in the city.
The chairman of Headway, Andrew Green, said: "Princess Diana's support of the charity greatly enhanced its profile and made more people aware not only of brain injury and its effects, but also of the help that was available."
William jibe
The prince took part in an interactive workshop, which demonstrated the effects that brain injuries can have on performing everyday tasks.
One of them involved changing a nappy on a doll, with one hand.
"This is exactly how my brother is going to be," he said as he struggled to fasten the sides of the nappy.
"All the mothers will be saying 'don't let him near the children'."
The prince also talked to young people at Russell Youth Club in St Ann's where organisations including the Community Recording Studio and KK Boxing Club are located.
Harry even stepped into the ring against 11-year-old Shabaz Baz.
As the youngster threw punches at him, the prince said: "You're 11? Remind me never to get in a ring with you again."
The royal rounded off the day by visiting the Confetti Institute of Creative Technologies, which provides training in the creative industry.