Radar work in Newark may have revealed a 'hidden tunnel'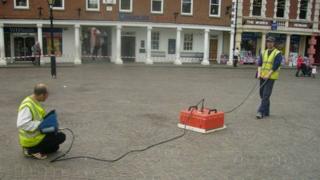 Evidence has been found of a possible "hidden tunnel" beneath a Nottinghamshire marketplace.
Ground-penetrating radar revealed a "vault-shaped area" underneath a hairdresser's in Newark.
Archaeologists are investigating whether there is any truth in legends of tunnels beneath the town centre.
A spokesperson for Newark and Sherwood District Council said more work was needed to determine whether the vault forms part of a tunnel or a cellar.
"We have seen some early indications of a vault-shaped area under one of the Georgian buildings, which is now occupied by a hairdresser's," the spokesperson said.
Tourist attraction
The results will be considered over the next few weeks.
If tunnels are found, it is hoped they will become a tourist attraction.
Newark Business Club and Newark Town Council are funding the initial two-month study, which will cost between £2,000 and £3,000.
The radar generates computer images of what lies underground.
Trent & Peak, an archaeological charity which mapped Nottingham's caves, has agreed to do the work.
If the first investigation is successful, the council will approach the Heritage Lottery Fund for money to continue the work.
The investigation was prompted by a planning application from Newark Town Council to erect temporary posts for Christmas lights in the marketplace.