Nottingham Forest fans 'furious' over seating changes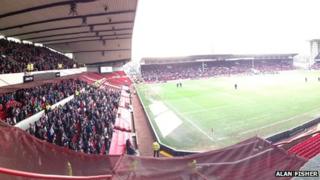 A number of Nottingham Forest supporters have said they are furious with plans to move them after they had already renewed their season tickets.
The club said it wanted to "reclaim" the lower section of the City Ground's Bridgford Stand from away fans.
If approved by the local authority, away support could be relocated to the Bridgford upper tier where home fans are currently seated.
Alan Fisher said he was "gutted" to be moving from his seat of 12 years.
Mr Fisher said: "I consider it the best seat in the ground and have got to know scores of people who sit around me over that period of time.
"I have already paid for next season's season ticket there and am furious that Forest have taken this step with no consultation."
He added if he was forced to move he would seek a refund.
'Hundreds of requests'
Nottingham Forest chairman Fawaz Al Hasawi said on the club's website that fans would be able to relocate their tickets to an alternative area of the ground free of charge.
Mr Al Hasawi said: "I received hundreds of requests for the away fans to be moved from behind the goal and for the Forest faithful to reclaim what is rightfully ours."
Many supporters feel putting home fans behind the goal would help the team.
Mr Fisher's brother Rich, who is also a season ticket holder in the stand, agreed the move could improve the atmosphere at the ground but said fans had been poorly treated.
He said: "The issue for me is the appalling communication from the club and the way loyal fans have been treated as a mere afterthought."
Another fan Graham Austin, who has not missed a home game since 1985, said the club was taking his support for granted.
He said: "If the club proceed with their proposal I will request a refund."
Nottingham Forest said it was undergoing a period of consultation with Nottinghamshire County Council over the move.
Rob Fisher, manager for emergency management and registration for the authority, said in a statement: "We've had a preliminary discussion with Nottingham Forest about its proposed change to the seating areas allocated to home and visiting supporters.
"We are awaiting more detail and will be discussing the plan at the next Safety Advisory Group meeting in June.
"Our main priority is the safety of match attendees so we will ensure any changes do not compromise safety management at the ground."