Newark house blast: DIY 'possible cause' of explosion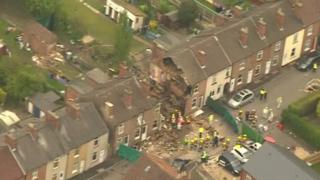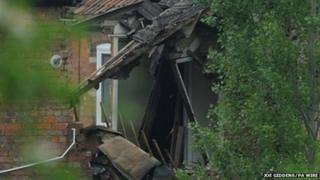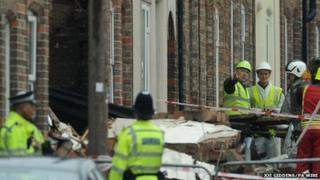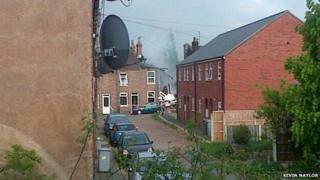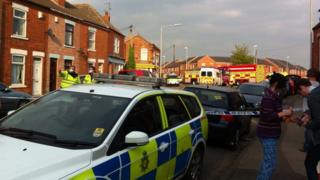 A family member carrying out a home DIY job may have caused an explosion which killed two people and left a third in hospital, police have said.
The two victims were named locally as Leslie Rourke, 71, and his 40-year-old daughter-in-law, Jeanette Rourke.
They died when a blast destroyed their terraced house, in Wright Street, Newark, Nottinghamshire, on Sunday.
Four others were injured in the incident, including Mrs Rourke's husband Nick.
He remains in a serious condition in hospital.
'Distressing tragedy'
A woman and two children, from a neighbouring house, have been released.
Supt Mike Manley, of Nottinghamshire Police, described the blast as a "distressing tragedy" and said a joint inquiry would be carried out with the fire service.
"We are supporting the families, the neighbours and others who have been displaced by this incident."
On the possible cause of the explosion Mr Manley said: "We have to keep an open mind - it was a shocking event - we are working with a number of specialists to try and understand what has taken place.
"At this time there is some information to suggest that members of the family may have been doing some form of DIY, but that's just one line of enquiry."
Bryn Coleman, group manager at the fire service, said a man's body was found between the basement and ground floor of the house in the early hours.
The woman was found and pronounced dead at about 03:00 BST, he said.
"It was particularly challenging for the emergency services because we knew there was potentially an escape of gas still in the area, and a further risk of explosion at that point.
"We also had concerns, and we still have concerns at this moment in time, about the structural stability of the neighbouring properties," Mr Coleman said.
Nottinghamshire Police said a controlled demolition would be carried out at the property as it was not considered safe.
About 100 people living near the site had to leave their homes overnight.
Many spent the night at the nearby Grove Leisure Centre.