Three peregrine falcon chicks tagged in Nottingham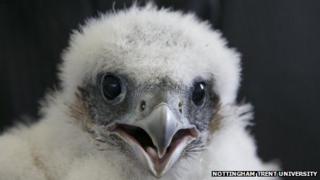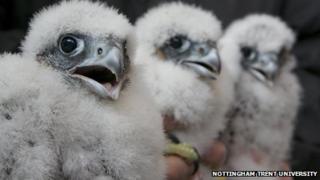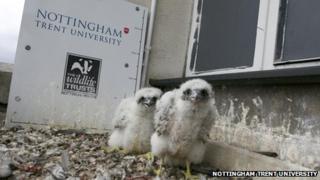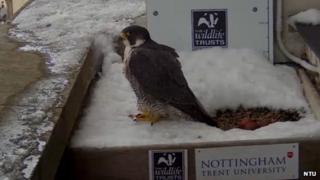 Three peregrine falcon chicks born this spring on the ledge of a Nottingham Trent University building have been ringed by wildlife experts.
Three chicks died on the same site in 2012 after severe weather, but the latest fledglings survived despite snow, a university spokesman said.
Seventeen chicks have been born on the Nottingham city centre nest since 2007.
A dedicated webcam on the Newton Building shows the peregrine falcon nest.
Nottinghamshire Wildlife Trust spokesman Erin McDaid said there was initial concern about the survival of the chicks after heavy snow in March, but the weather had improved since then.
"The adults will need to find enough food to keep themselves and their growing chicks from going hungry," he added.
The university is holding a competition to name the chicks, which were born at the end of April.
One of the chicks has already been named Ernest after one avid webcam viewer who passed away in 2012.
The one surviving chick from 2012 was named Storm and the chicks from the previous year were called Will and Kate.
Thousands of people, from 65 countries, have watched the birds on the webcam since 2011.