Nottingham student's design inspired by friend who lost a limb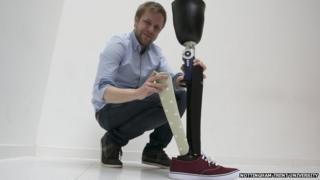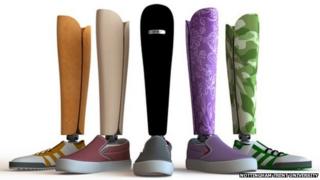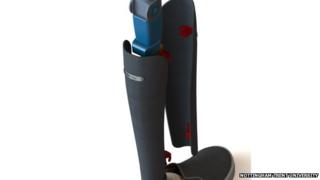 A student has designed an artificial limb with a changeable cover to reflect the wearer's mood, inspired by a friend who lost a leg.
Nottingham Trent University undergraduate Jonathan Bradshaw wanted to provide amputees with an affordable way of reflecting their sense of style.
It followed research in which he found appearance to be as important as comfort among younger people.
School friend and amputee Amy Bosley described it as "a stroke of genius".
The 23-year-old came up with the idea for a product design project after becoming intrigued by some amputees who use wheelchairs rather than artificial legs.
Jonathan said: "It's my aim to increase the amount of choice people have so they can wear different covers for different occasions.
"I really wanted to create something which amputees could link with their own style to give them a better image of their own prosthetic."
He added: "For instance, people might like to have graphics on their limb for a night out, or have a skin tone cover for a more formal occasion.
"Others might like to wear a colour which matches their clothes, while some may want one with a leather finish.
"The beauty of the product is that it allows people to wear a variety of colours, patterns and textures to suit an occasion, their personality or how they feel on the day."
He said he was unaware of any firm offering a similar service other than a company in the US which can charge thousands of dollars - something out of reach of the NHS and most people.
Amy, 24, from Thatcham in West Berkshire, opts to use a wheelchair rather than wear a prosthetic.
She said: "It gives amputees the option to be individual and to change their leg depending on their mood; a bit like someone would change their shoes to fit what they fancy.
"The options available at the moment are limited and so any development in prosthetics would be a bonus."