Left Lion 'yarn bombing' completed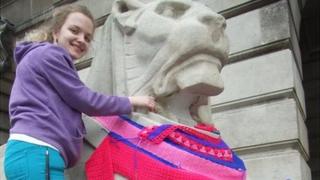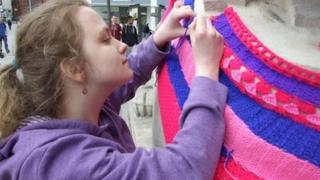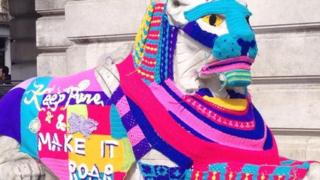 A stone lion in Nottingham, used as a popular meeting place, has been given a knitted cover for an A-level exam.
The statue, known by Nottingham residents as the Left Lion, was "yarn bombed" by textile design student Nikki Charlesworth.
The 18-year-old New College Nottingham student decided to use yarn as a form of graffiti art after studying Olek, a Polish crochet artist.
Olek crocheted the iconic Charging Bull sculpture on Wall Street, New York.
'Chic and comfortable'
Miss Charlesworth said: "I discovered the art movement 'yarn bombing' when a friend of mine sent me a video on street art, which featured a section on crochet graffiti.
"Since then, I have been hooked - pun intended."
The Left Lion is so fondly regarded in Nottingham that a magazine was named after it.
Jared Wilson, editor in chief of LeftLion magazine, said: "Nottingham's beloved lion looks both chic and comfortable in his jazzy pink, purple and blue get-up.
"Nikki has done a tremendous job and should be applauded for her work. The jumper could also come in handy for him if we get another summer like this time last year."
Yarn bombing, also known as guerrilla knitting, is a type of street art or graffiti using items made from yarn - whether knitted, crocheted, or made into pom-poms.
Earlier this year, police encouraged people to yarn bomb a Leicester park in the hope it would reduce the fear of crime.
Miss Charlesworth has taken her work down but will keep the pieces in case Nottingham City Council wants to recreate the look in future.