Sherwood Forest and Charnwood Forest compete for £6m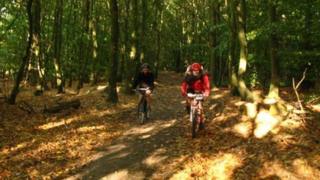 Two East Midlands forests are competing for Heritage Lottery funding.
Sherwood Forest, in Nottinghamshire, and Charnwood Forest, in Leicestershire, are finalising bids for the £20m Landscape Partnership scheme.
If successful, the bids would mean a £6m boost for the region.
Previous successful landscapes to have won backing from the scheme include the White Cliffs of Dover, Ben Nevis and Constable country.
Both forests are aiming to get the maximum £3m funding from the scheme. The bids have to be submitted by Friday.
The bids for both forests are being compiled by a consortium of agencies who are coming together to form "Regional Parks" for each area.
A Regional Park is a non-statutory agreement between major authorities and charities to work cohesively within a certain area.
John Everitt, chief executive of Nottinghamshire Wildlife Trust, also chairs the Sherwood Forest Regional Park Board, which includes members from the National Trust, Experience Nottinghamshire and the county and district councils, among others.
'Steeped in history'
Mr Everitt said: "The Landscape Partnership scheme will give us a springboard to restore Sherwood Forest.
"Sherwood Forest is one of the best brands in the country, yet we don't really realise its full potential.
"There's a sense of anti-climax with some of the current tourist offering.
"We are in a fairly similar position to Charnwood Forest in that we have both seen this opportunity to develop."
If successful, the bid would help maximise tourism opportunities.
Julie Rushby, project coordinator for Sherwood Forest Trust, said: "This area is steeped in history. To raise its profile would be fantastic."
'Fantastic support'
The Charnwood Forest bid is being led by Leicestershire County Council, on behalf of organisations including The Bradgate Park Trust, The National Forest and the Leicestershire and Rutland Wildlife Trust.
If successful, the bid will be used to help support a range of programmes to conserve the landscape and improve access to the area.
The Charnwood Forest is home to the oldest rocks in Britain.
County councillor Pam Posnett, said: "We have had some fantastic support from the public.
"The Charnwood Forest really is a gem that has a unique character, beauty and history. We feel it is a wonderful place that deserves wider recognition."
The Heritage Lottery Fund said it was unable to comment on either bid.
A spokesman said: "The landscape partnership scheme is very popular and usually oversubscribed. It's not beyond the realm of possibility two projects from the same region could get funding but it depends on what other applications we receive."
The successful bids will be announced in October.