Newark tunnels search will continue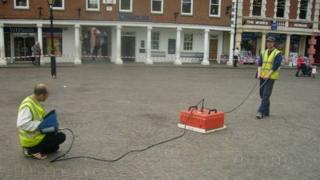 Further investigations have been planned to discover whether a network of underground tunnels exists in a Nottinghamshire market town.
An initial archaeological study found no evidence of the tunnels under Newark market place but did locate a number of extended cellars.
The study was conducted by a range of organisations, including the district and town councils.
Project leader Ian Harrison said he was convinced tunnels run beneath the town.
Mr Harrison, who is leading the project on behalf of Newark and Sherwood District Council, the town council and Newark Business Club, said he was "not at all dismayed" by the findings.
He added that, since the work started, more than 40 people had come forward with accounts of the tunnels but proof of their existence is yet to be found.
"One first-hand account has been submitted from a man stating he has walked two tunnels from the Corn Exchange to the castle and to the old Hamblings shop on Stodman Street," Mr Harrison said.
"We will be talking to him and looking in detail at the Castlegate and Bargate locations.
"I am now firmly of the opinion that tunnels do exist and certainly our accounts strongly indicate that, if they do, we will find them in Castlegate and Bargate with routes to the castle being the common thread."
Severn Trent Water has agreed to continue the investigation as part of plans for a future sewer upgrade.
Steve Milner from Severn Trent said: "Before we install new sewer pipes in any area, we conduct ground surveys to understand what lies beneath the streets.
"We're happy to share the details of our surveys in this area with the council, in the hopes that it may shed some light on this underground mystery."
Gareth Davies, of Trent and Peak Archaeology, which conducted the initial ground penetration study and will be continuing the study for Severn Trent, said: "Results indicate there are no tunnels that cross that specific area of the Market Place, at least tunnels less than five metres beneath the surface.
"The survey did however confirm extended cellars going into the Market Place and also earlier walls, probably going back to medieval times."