Damien Fogo gets 32 years for Co-op manager murder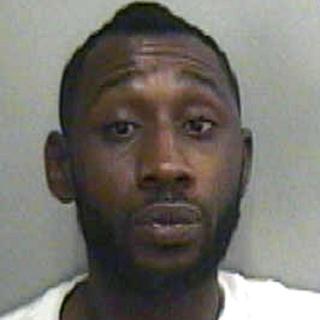 A man who murdered a Nottingham Co-op manager in an attempt to steal £10,000 will serve more than 30 years in jail.
Damien Fogo, of no fixed address, had tried to get the money from Germaine Edwards, who he shot dead in Fairnley Road, Nottingham, in November.
Nottingham Crown Court heard Fogo, 32, knew Mr Edwards, from the Bilborough area, was in line for the redundancy payment and cornered him in a car.
Fogo, who denied murder, was jailed for life with a minimum term of 32 years.
The trial heard Mr Edwards had finished his last day at work at the St Ann's Co-op on 17 November when he picked up a friend, Dwayne Bryan, and Fogo in his car.
Family 'devastated'
Fogo then left and returned a short time later with a gun. Mr Edwards was forced into the boot and Mr Bryan was told to drive away.
Mr Bryan managed to escape but Mr Edwards was shot and died after staggering a short distance.
Fogo was also found guilty of attempted robbery and possession of a firearm.
Judge Michael Stokes said: "You effectively kidnapped (Germaine and his friend) - this was a deliberate and cold-blooded murder.
"You took the life of someone who was loved by his family and his family are devastated by his death"
Det Ch Insp Tony Heydon said: "Fogo is a dangerous man who has been involved in violent crimes for many years.
"Nottingham is a safer place without him. It is significant that no friends or family turned up to support him in court.
"His parents left the country rather than see him in the dock. Now he will spend the next 32 years alone."