Paa Joe's creative coffins focus of Nottinghamshire festival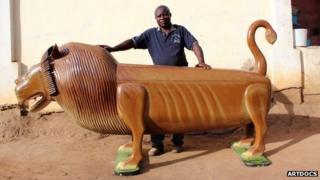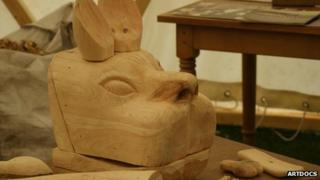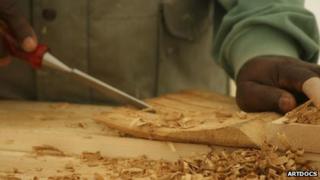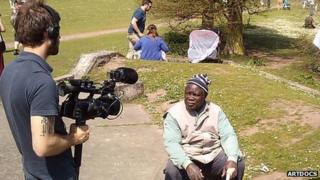 A Ghanaian joiner noted for his creative coffins has been displaying his work in Nottinghamshire.
Joseph Ashong, known as Paa Joe, left Ghana for only the second time to spend a month as an artist in residence at Clumber Park, near Worksop.
His residence ended on Saturday evening with a procession including traditional music, and his signature coffin was floated across a lake.
He came over to work with documentary maker Benjamin Wigley.
'Grandfather of the trade'
In 2008, Paa Joe had to leave his workshop in the centre of Accra to move to his storage hut two hours away, but his customers did not follow and his coffin-making business suffered.
It is now hoped he can carve out a new career as an artist, helped by Wigley's documentary with Nottingham-based Artdocs.
A spokeswoman for the group said: "Paa Joe is a master craftsman and the grandfather of the fantasy coffin trade.
"Since 16 he has been crafting beautiful coffins that represent the lives of the people for whom they are made - a Coca Cola bottle for a street vendor, or a lion for the head of a family.
"He has produced thousands of coffins, the majority of which lie deep under the ground."
Some of his work has already exhibited internationally as examples of the Ga culture, including at the British Museum in London and the Brooklyn Museum in New York City.