Nottingham retirement village residents 'trapped' by tram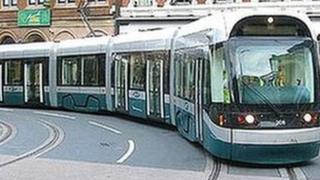 Residents of a Nottingham retirement village have said they feel "trapped" by work taking place to extend the city's tram.
The residents at Lark Hill, in Clifton, said dust from the tram works is affecting their health and has left them unable to open their windows.
A spokesman for the tram said measures had been put in place to minimise inconvenience.
When it opened in 2009, Lark Hill was Europe's largest retirement village.
'Like Skegness beach'
The £59m complex includes a mixture of homes which are sold or rented to people aged 60 and over, as well as leisure facilities.
Chris Kesteven, who lives on the complex, said the work to extend the tram, on Farnborough Road, meant she was unable to use her balcony and had to clean her windows three times a week.
"You can't sit outside on the balcony because of the dust," she said. "I feel trapped in my own home. I have COPD (chronic obstructive pulmonary disease) and the dust gets on my chest.
"I've had to have fans fitted to get rid of the dust in my home. It feels like Skegness beach."
She said she had not realised the tram was going to be built outside the complex when she bought the property.
"We have no problem with the tram being there at all," she said. "It's just they never explained to us all this work was going to happen."
She added her neighbours had also experienced problems with the dust.
A spokesman for the tram's design and construction contractor, Taylor Woodrow Alstom, said: "We put in place many measures to minimise dust and inconvenience during construction works across the entire project.
"In this particular area, we have been using a water bowser to control dust. We have also erected debris netting around our construction sites.
"Although we maintain contact with the residential complex, we were not aware of this lady's situation before, and we will certainly visit her to understand better her concerns. We will make every effort to minimise any impact on her and other residents in the area."