Nottingham Trent University's 'pit talk' appeal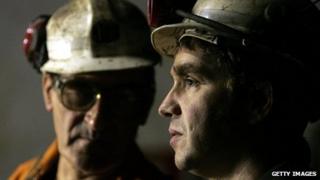 Linguistics experts in Nottingham are appealing for miners to come forward with their memories of 'pit talk'.
Researchers at Nottingham Trent University are trying to preserve the language of the East Midlands coalfields.
Mining was once widespread across the East Midlands, but now only Thoresby Colliery remains.
The researchers said little work had been done to preserve miners' dialects in the area.
Still in daily use
Natalie Braber, a senior lecturer in linguistics, said she hopes to save as many unique words as possible.
"A lot of work has been done on the dialects and terms used in mining communities in the North East, Scotland, Kent and even the tin mining areas of Cornwall, but we have found very little focusing on the East Midlands," she said.
Called Pit Talk, the project also aims to highlight any mining phrases that have found their way into the language of the East Midlands which might still be in daily use.
"Our language is a big part of who we are," Ms Braber said.
"For many years, it was a big part of the East Midlands economy. I'm very interested in talking to miners themselves and also their families, who may remember these terms."
Ms Braber said she and her team also hope to be able to explain how populations shifted as mines opened and closed over the years.
"Terms used in Scottish mining communities, for example, may crop up in pockets of the East Midlands," she said. "Often they have the same meaning but not always.
"This can happen if a significant number of pit workers and their families relocated.
"The term 'snap' for lunch is an East Midlands and Yorkshire phrase, but some former miners might refer to their 'bait' in Durham or 'piece' in Scotland. People often refer to their sandwiches in that way and this has been linked with miners."