Nottingham family escapes house car crash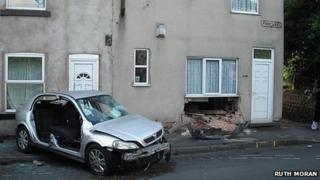 One man has been arrested and another seriously injured after a car smashed through the front of a house in Nottingham.
The car hit the property on Park Lane in Old Basford just after 00:30 BST, leaving debris in the living room.
The house's occupants were unharmed, but described the crash as sounding like an "explosion".
Two women who were in the car were treated for minor injuries and two parked cars in the area were damaged.
Householder Ruth Moran said the family was confused at first: "There was a huge bang and the walls shook and at first I thought it was an explosion.
"My daughter who was in the room above thought it was an earthquake but it was when my partner looked out of the window and saw the car on the pavement we realised it was an accident."