Mansfield General Hospital site bought by council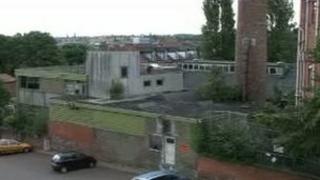 The site of a former Nottinghamshire hospital which has been described as "a blot on the landscape" has been purchased by the local authority.
Mansfield District Council said it has bought the 1.3 hectare (3.2 acre) site, housing the former General Hospital off West Hill Drive in Mansfield.
The property, which houses some buildings which date back to 1900, has been disused for nearly 20 years.
The council would not reveal the purchase price.
'Commercially sensitive'
The authority had considered using a compulsory purchase order to acquire the site but was able to successfully negotiate with the owner to buy it.
"We are not revealing that (the purchase price) as it is commercially sensitive. However, we can say it represented good value for money when compared with the cost in time and money of a compulsory purchase order," a council spokesman said.
Mansfield District Council's executive mayor Tony Egginton said: "I was fully supportive of the motion to use the council's powers to acquire the site and bring to an end the years of misery for those living in the shadows of what has become a derelict eyesore."
District Councillor Martin Lee added: "For too long, the site has been a blight on the community.
"By acquiring the site, the council can now make real progress in removing this blot on the landscape and redeveloping the site."