Steven Frogg jailed for attempted murder of Mansfield boy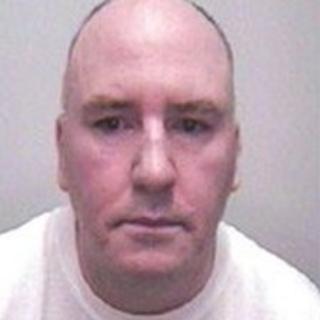 A man who broke a four-year-old boy's skull in three places in a "frenzied" attack has been jailed for 16 years.
Steven Frogg, from Mansfield, slashed the boy several times across the head and neck and left him in a pool of blood on the pavement outside his flat.
The boy was attacked by 52-year-old Frogg soon after his father had left him at Frogg's home to go shopping.
Nottingham Crown Court heard Frogg, who admitted attempted murder, was drunk during the attack of April 2012.
Within 15 minutes of being left with the boy on 9 April, Frogg had used a knife to slash him repeatedly.
'Further torment'
Prosecuting, John Lloyd-Jones QC told the court the boy suffered five slash wounds to his scalp that fractured his skull in three places, as well as a deep slash wound to his neck, and two stab wounds to his back.
After the attack, Frogg, of Frederick Street, was captured on CCTV at the front door of his home throwing the boy on to the street outside.
Judge Michael Stokes QC said the decision to leave the child with Frogg had been "the worst decision his father had ever made".
He said to Frogg: "Whatever caused you to behave as you did, you made a ferocious and frenzied attack on that little boy.
"The effects have been devastating, leaving markedly visible scars, not to mention serious psychological damage.
"He is frightened of stairs, he sleepwalks, he suffers dreadful nightmares - all because of you."
Speaking after the sentencing hearing, Det Sgt Phil Sims said: "Frogg not only inflicted a series of horrific injuries on the boy, but also left him for dead.
"His blatant disregard for the welfare of the youngster is completely incomprehensible.
"Frogg has given no explanation for his disturbing actions - a further torment to his victim's family."