Forty vehicles have tyres slashed in Nottinghamshire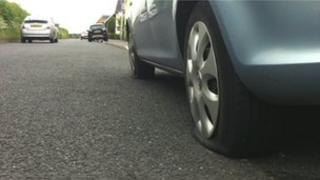 About 40 cars have had their tyres slashed in areas of Nottinghamshire.
Twenty of the cars were were damaged in Flatts Lane, Calverton, at about 04:40 BST, and a further 20 were reported an hour later in Rainworth and Blidworth.
Police have appealed for the driver of a white BMW, seen in the Calverton area at the time, to come forward.
Sgt Mark Marriott has called the acts "pretty pointless" and an inconvenience to the many drivers affected by the vandalism.
Richard Hughes, one of the victims, said he got a knock on the door from police at about 05:30 BST regarding the cars.
He said: "Apparently, somebody was driving down the street and stopping at each car. One of the neighbours said they'd seen them and contacted the police.
"It was a surprise. It's quite a nice area and not what you would expect."
Police patrols have been increased in the area and CCTV will be reviewed.