Fashion entrepreneur Sarah Curran appointed MBE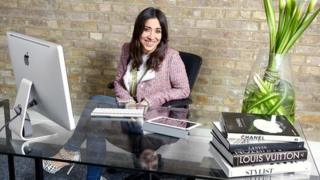 Online clothing entrepreneur Sarah Curran is appointed MBE for services to the fashion industry in the Queen's Birthday Honours list.
Ms Curran founded online retailer My-Wardrobe.com in 2006, in the former offices of her father's pest control business in Nottingham.
The business rapidly grew and now has offices in London, New York, Sydney, Dubai and Oslo.
Ms Curran said it felt "really surreal" to receive the honour.
"When I was told about the MBE I was absolutely blown away," said Ms Curran, who lives in Rutland.
She founded the business, which sells designer labels, using her experience running a boutique and working as a sub-editor for a news website.
Speedo president recognised
Although the business is now international its warehouse and central distribution centre are still based in Nottingham.
Other Nottinghamshire figures named in the Birthday Honours list include David Robinson, president of Speedo International, which has its headquarters in Nottingham.
Mr Robinson is being appointed OBE for services to economic development in the East Midlands.
Others appointed OBE include Nicholas Miles, provost and chief executive of the University of Nottingham's campus in China, for services furthering UK/China educational interests.
Elizabeth Weston, who has been curator of Mansfield Museum for 26 years, is appointed MBE for services to heritage and the community.
"I couldn't do what I do here without a fantastic team of staff and the support of the council," she said.