East Midlands death rate hospital review under way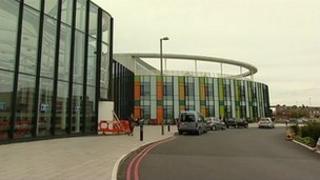 A review of two NHS hospital trusts in Lincolnshire and Nottinghamshire has got under way, with patients complaining services are being "hammered".
The review, at Sherwood Forest Hospitals Trust and United Lincolnshire Hospitals Trust, will investigate standards of care.
Both trusts have experienced higher than expected mortality rates.
Public meetings are being held to gauge the views of patients.
'Very intense process'
In Lincolnshire, the meetings were held at the White Hart in Boston and the White Hart in Lincoln.
The review panel said they would specifically be examining elderly care, stroke patient treatment, respiratory, diabetes and obstetrics care and the high number of deaths attributed to perinatal conditions.
There are also concerns around MRSA infection rates and clinical negligence payouts.
The panel is conducting inspection tours of Lincoln County Hospital and Grantham Hospital.
Ruth May, review panel chair and regional chief nurse, said: "I'm going to be testing issues around staffing, how patients are cared for.
"It's a very, very intense process. I know that following the two visits we have done, people have taken some immediate actions."
'Lucky to be alive'
In Nottinghamshire, where listening events were held at Newark Town Hall and Kings Mill Hospital, patients said services had been downgraded and people were travelling further for care.
John Roberts, from Balderton, said the health service was "not fit for purpose".
He said his wife Margaret was "lucky to be alive" after having waited more than an hour for an ambulance to arrive following a brain haemorrhage.
"Newark should have an emergency service," he said. "It's quite a big place and when you look at other towns and villages, Newark really is being hammered."
The hospital's emergency department was turned into a minor injuries facility in 2011.
However, the clinical lead of the Newark NHS Clinical Commissioning Group, Dr Mark Jefford, said death rates had not gone up because people were travelling to other hospitals.
"We have no evidence of that," he said. "We know current medical evidence is if you are acutely unwell, particularly with either a stroke or a heart attack, you have the best outcomes by going to the biggest centres."
He added he welcomed the review and said: "I absolutely appreciate and understand the people of Newark are very concerned about ambulance transfer times.
"We are working very hard with East Midlands Ambulance Service to try to make sure we can improve those services."
The panel is expected to report back later in the year.