Safety plea from bike crash PC's daughter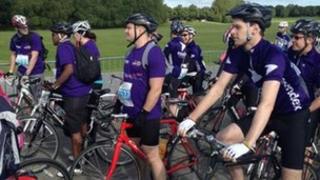 The daughter of a policeman seriously hurt when he was knocked off his bike is campaigning for better cycle safety.
Rachel Coetzee, the daughter of PC Diederik Coetzee who suffered brain injuries in 2011, is taking part in the Great Nottinghamshire Bike Ride.
She also hopes cyclists will take part in the bike safety scheme Ridewise.
Her father, who was an officer with Nottinghamshire Police, was struck by a car in Blidworth and is still undergoing rehabilitation.
'Cutting in'
Mitchel Graham, 26, of Blidworth, was sentenced to 15 months in prison for dangerous driving after the hit-and-run accident.
Ms Coetzee said she took up cycling after her father's accident and is determined to highlight cycle safety.
"It is to raise awareness and make people visible and acknowledge the need for safety - cyclists also need to be aware that they need to be safe," Ms Coetzee said.
"Commuting to work, a lot of people do not realise the mistakes they make when they weave in and out of the road and trying to cut past cars.
"He has made so much progress over the past few years - he is down in Northamptonshire in a specialist rehabilitation unit but he is coming home full time in July.
"He did a lot of spin classes and when he was on the beat he cycled everywhere."