Couple to renew wedding vows 'Robin Hood-style'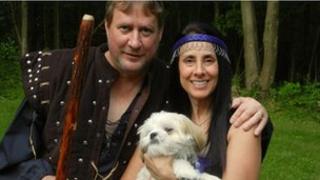 Two Robin Hood fans from New Jersey, in the US, will celebrate 15 years together by renewing their wedding vows in Sherwood Forest later this summer.
Joe and Debbie Tencza will make their promises dressed in themed costume on the eve of the Robin Hood Festival.
A Nottinghamshire County Council registrar will manage the service.
The couple have a puppy named Robin of Loxley and have travelled all over the US in full costume to attend Robin Hood 'renaissance' events.
'Special place'
Mrs Tencza said: "Sherwood Forest is the perfect place for a fresh start of the rest of our lives.
"I have loved the legend of Robin Hood since I was a young girl. Joe knew of the legend before we met but learned more as we spent time together.
"We are both big fans now. I have many books on Robin Hood and love to read about both the legend and the history whenever I get a chance."
She added she had been spurred into organising the vow renewal after being diagnosed with cancer in 2012.
"Last year was a tough year for me," she said.
"I was diagnosed with breast cancer and underwent several surgeries. Now the cancer has gone and with this being our 15th wedding anniversary, I wanted to go to a special place and, for us, Sherwood Forest is that special place."
The couple have visited Sherwood Forest once previously.
"It was a magical trip," said Mrs Tencza.
"At the time, there was a display of items from the Robin Hood Prince of Thieves movie, which was so exciting because it is one of our very favourite movies.
"The song '(Everything I Do) I Do It For You' from the movie is our wedding song.
"We also went to Loxley, looking for one of the graves that's thought to be connected with Robin Hood."
The couple's vow renewal will take place on 4 August.
Mr Tencza will be dressed as Robin, while Debbie will wear a purple peasant-like dress during the ceremony.