Nottingham tram network sees slump in passenger numbers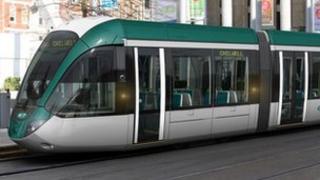 The number of journeys taken on Nottingham's tram network are at their lowest since it opened, figures from the Department for Transport show.
The network has lost more than a quarter of its passengers in the last five years.
A fall from 10.2 million in 2007/8 to 7.4 million last year.
The Tramlink Nottingham consortium, which operates the service, said the loss of concession ticketing and the recession were to blame.
Chief executive Phil Hewitt said the figures were "disappointing but not unexpected".
'Recover lost passengers'
He said the loss of passengers was partly due to the withdrawal of an integrated ticket system which allowed passengers to swap between buses and trams.
He also highlighted the recession for the decline.
"The reality is that it is very difficult at the moment - the impact of the recession shouldn't be underestimated," he said.
"It is very difficult for all public transport operators to recover lost passengers who simply have less money in their pockets and are making less journeys."
However, the figures show that Sheffield's Supertram saw only a 4% drop in users and carried almost 14.5 million passengers last year.
Mr Hewitt added the introduction of ticket offers later this year would help increase numbers.
He also said that despite the fall the company was meeting its revenue targets.
The figures come at a time when a £570m project to extend the network is under way, which includes the construction of two new lines serving Wilford, Clifton, Beeston and Chilwell.
The network expansion is being funded by the city council, the government, tram fare revenue and a private finance initiative.